Bollywood actress Kangana Ranaut took to Twitter to launch a fresh attack on Diljit Dosanjh and Priyanka Chopra after a clash broke out between the agitating farmers and Delhi police officials on Tuesday (January 26). The 'Panga' actress shared a picture of a protestor trying to hoist a flag at Red Fort and asked Diljit and Priyanka to 'explain' the same.
Also READ: Delhi Metro Guidelines: Entry/Exit Gates Of Several Stations On Green, Red & Grey Line Closed Amid Farmers' Tractor Rally
"You need to explain this  @diljitdosanjh @priyankachopra. Whole world is laughing at us today, yahi chahiye tha na tum logon ko!!!! Congratulations."
Kangana posted a video to condemn the violence at Red Fort. She tweeted, "Sick and tired of riots and blood bath almost every month, Delhi, Bangalore and now again Delhi."  
"Friends, the Red Fort was attacked on the occasion of Republic Day. Khalistan's flag was hoisted at Red Fort. At a time when India is celebrating its Republic Day and winning the battle against COVID-19, we could have rejoiced but the protestors resorted to violence. The people who are protesting against the farm bills should be put in jail" she said.
The 'Queen' star shared another post and claimed that she lost six brand endorsements after she commented on the farmers' protests against the farm bills on social media. She said that six brands cancelled contracts with her as she spoke about the farm bills and the protests surrounding it.
"Six brands cancelled contracts with me some were already signed some were closing n said I called Farmer terrorists so they can't have me as an ambassador. Today I want to say each and  every Indian who is supporting these riots is also a terrorist including anti national brands," Kangana wrote on the micro-blogging site.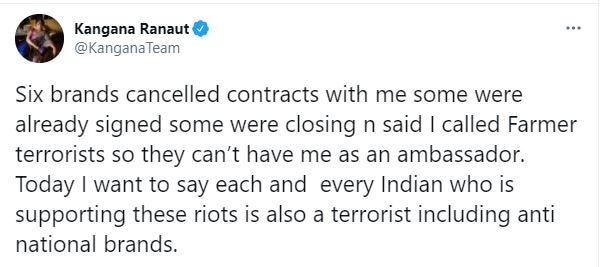 Last month, Kangana had launched an attack on Priyanka Chopra and Diljit Dosanjh, accusing them of 'misleading the people' by encouraging the agitation. Kangana and Diljit's Twitter feud set several tongues wagging and became the talk of the town.
The 'Good Newwz' star had called out Ranaut for misidentifying a woman, who participated in the farmers' protests, as Bilkis Bano. The two tinsel town celebs were engaged in a heated war of words on social media.
https://news.abplive.com/entertainment/movies/tractor-rally-turns-violent-kangana-ranaut-reacts-tags-diljit-dosanjh-on-social-media-post-1441122